Impact of Higher Energy Prices on ABS SMEs Still Appears Limited
Using the ESMA data from its Securitisation Repository database, European DataWarehouse finds that, so far, energy-intensive industries appear to be withstanding the effects of high energy prices. However, as more quarterly data becomes available, a different picture may emerge.
Key points
EDW has observed no spike in defaults for the SMEs most exposed to high energy costs as of Q4 2022.

German and southern European transactions in the SME ABS asset class contain the most loans to SMEs exposed to higher energy prices.
The macro sectors which suffered the most between Q4 2021 and Q4 2022 are:

Wholesale and Retail Trade (not energy intensive)

Accommodation and Food Service Activities (not energy intensive), and

Manufacturing (energy intensive)
INTRODUCTION
Europe's energy prices began to rise from mid-2021 in the post-COVID-19 recovery context, even before the Ukraine war led to further stress. This sharp increase in energy prices threatened the viability of some European companies highly reliant on energy.
European countries reacted with various relief measures that helped to mitigate the impact of this problem, whilst a package of measures was also enacted at the European level.
EDW analysed ESMA data to see if this shock to energy prices had visible effects on the performance of European SMEs.
EDW LOAN-LEVEL ANALYSIS
The EU Guidelines 200/01 mentions NACE codes of energy-intensive industry sectors in Annex 3 and Annex 5. These NACE codes can in turn easily be found in our database.

Exhibit 1 lists the exposure of ABS SME portfolios to energy-intensive industries per country, as a percentage of total loan balance and a percentage of the number of loans.

EXHIBIT 1: Exposure of SME Securitisations to Energy-Intensive Industries

Source: European DataWarehouse (data as of Q4 2022)
Note: Only active loans with a valid NACE code were considered (NACE code different from one of the ND options presents in the Securitisation Regulation)
Notably, Italian and German securitisations display the highest exposure to energy-intensive SMEs. The fact that the loan balance percentage generally exceeds the number of loans percentage indicates that energy intensive SMEs require rather larger loans than other SMEs, and perhaps also, that they are larger SMEs.
Exhibit 2 lists the share of the various industries within the high-energy consumption subset. Mining and quarrying are notoriously energy intensive but only represent a very small portion of the securitised pools (1%).
EXHIBIT 2: Composition of EDW's Energy Intensive SME Subset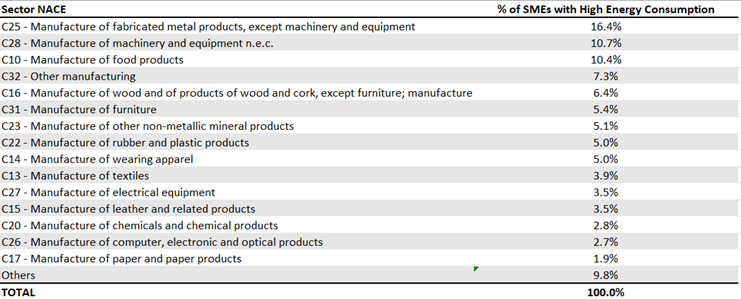 Source: European DataWarehouse (Q4 2022)
Note: Only active loans with a valid NACE code were considered (NACE code different from one of the ND options presents in the Securitisation Regulation). This data reflects the latest loan-by-loan submission for each SME public deal made in Q3 2022.
Spain, Portugal, and France are the jurisdictions where we observe an increase in defaults for energy intensive industries since Q3 2021. Spain shows the highest percentage of loans in default with 3% for non-energy-intensive and 5.2% for energy intensive SMEs.
In France, the proportion of defaulted loans progressed faster for energy intensive SMEs than for the others, but we note that they were already underperforming in Q3 2021. In Italy however, defaults are higher for non-energy intensive SMEs.

EXHIBIT 3: Defaults Show Gradual Increase Since Q3 2021

Source: European DataWarehouse
In Exhibit 4, a comparison for each country is made on the overall share of all loans in every industry to the share of defaulted loans in each industry. When a sector is particularly underperforming, its share in defaults exceeds its share of the loans.
Agriculture generally shows better performance, except in the Netherlands where it performs strikingly worse; agriculture represents 29% of the Dutch loan amount but 52% of the defaulted amount subset.

Manufacturing, for now, clearly underperforms in France and to some extent in Spain; in other countries however, manufacturing does not seem to underperform.

Construction and real estate underperform in Italy but not in other countries.

Wholesale and retail trade underperforms in Italy, Spain, Portugal.

EXHIBIT 4: Share of all Loans vs Share of all Defaulted Loans, by Country

Source: European DataWarehouse (Q4 2022)
In conclusion, energy intensive industries do not seem to be clearly underperforming, but this may change if energy prices remain high, and if input costs cannot be reflected in output prices.
Please note that the ABS SME portfolios are not necessarily representative samples of the SMEs of these countries and reflect the eligibility criteria of the securitisations as well as loan management practices (some originators have thus at times repurchased underperforming loans from securitised portfolios)..

European DataWarehouse will continue to monitor the evolving impact of energy prices on the performance of the SME asset class in the context of the most affected industries and borrowers.


To learn more about this analysis, please refer to EDW's Q1 Research Update Webinar by downloading the recording below.