The Babel tower of Energy Performance Certificate ratings and databases in Europe
European DataWarehouse (EDW) is the first securitisation repository in Europe for collecting, validating, and making available for download detailed, standardised and asset class specific loan-level data (LLD) for Asset-Backed Securities (ABS) transactions and private whole loan portfolios. Developed, owned, and operated by the market, we help to facilitate risk assessment and to improve transparency standards for European ABS deals. Among the other things, ED is a member of the Energy Efficiency Data Protocol and Portal (EeDaPP) Consortium (1), which aims to create a technical solution to help financial institutions obtain energy efficiency data from external databases.  An analysis was carried out to compare different energy performance certificate (EPC) ratings and methodologies across Europe. The results were striking; despite a simple scale from A to G for EPC, the diversity of the categorisation of the housing markets are substantial across Europe, making it difficult to carry out comparisons and consistent evaluations (see Tab. 1 for more information).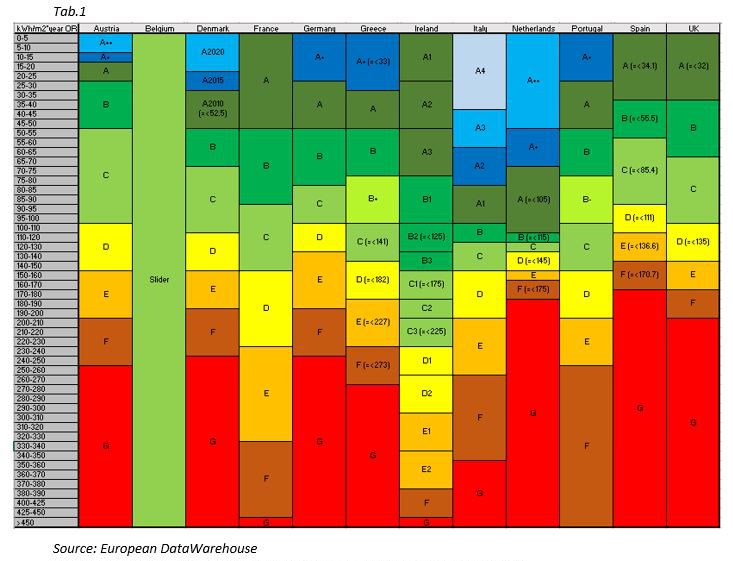 A common conversion factor is needed to make sure that an A in one country corresponds to a similar level of efficiency in the others.
More recently, EDW carried out a review of the databases in order to evaluate the EPC availability and accessibility to third parties. Adopting a traffic light categorisation system allowed us to get a comprehensive view of the situation across Europe:
Green: full availability of EPC for research purposes in compliance with General Data Protection Regulation (GDPR) on a regular basis;
Yellow: limited access to the EPC on a property by property level;
Red: restricted access EPC available only to registered authorised.
By adopting this classification methodology, the EPC data availability is very diverse (see Tab.2 for more details):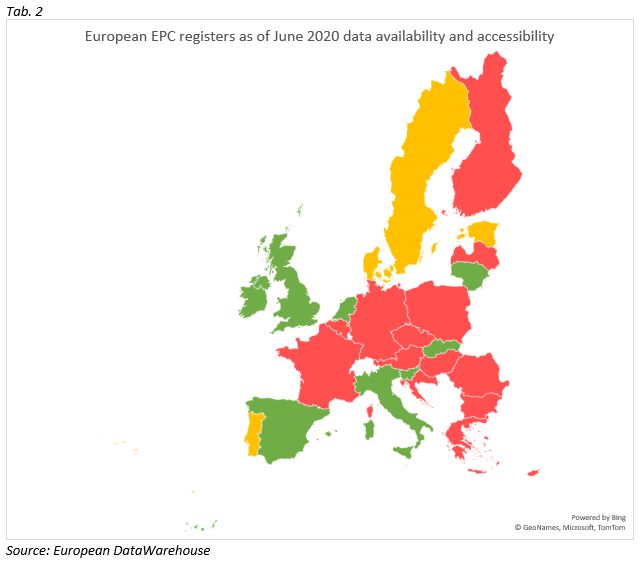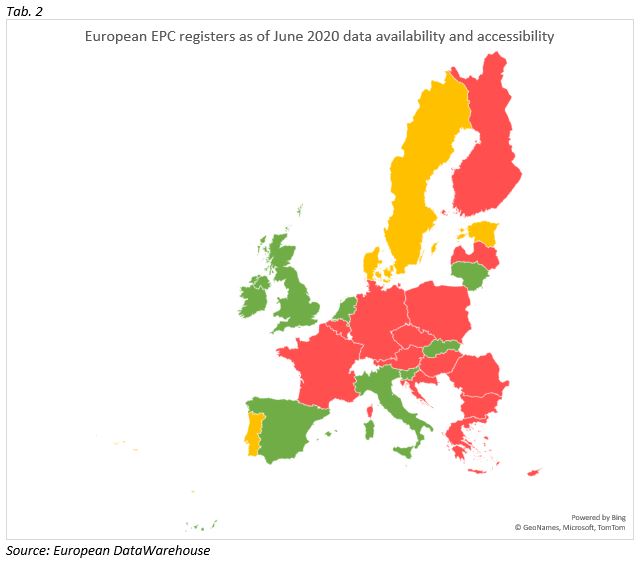 It is noticeable that most of the countries do not offer open-source data in a suitable format to conduct  a comprehensive research or analysis. The situation is even worse than how it seems if we consider the scope of each country's register. The majority have a central register, however, some jurisdictions present separate registers belonging to individual regions or provinces. In fact, even some of the "virtuous" countries such as Italy, Spain, and the United Kingdom managed to achieve full availability of data only with regards to some of their regional databases such as Lombardy, Catalonia, and England.
The following statistics are comprehensive of all the registers (both central and regional) that have been identified as of June 2020:


Waiting for a green light to access the EPC data on a systematic manner may take long. We cannot afford waiting for long according to the goals set by the European Union Horizon 2020 Research and Innovation programme. In fact, nowadays emphasis has been placed on energy efficiency, Europe as a leader of renewables, and a fair deal to consumers. In this context, European DataWarehouse took a series of actions such as the launch of a new tool called "Giuditta" to extract EPCs from various databases and assign them to the corresponding properties across Europe.
This tool has the main objective of solving the issue of missing EPC certificates for most of the buildings that banks hold in their mortgage portfolios. European DataWarehouse is leveraging the fact that many European countries, either at national or regional level, have developed energy efficiency databases that map each building into the corresponding EPC.
For more information please contact us at enquiries@eurodw.eu.