WHY ESG MATTERS TO EUROPEAN DATAWAREHOUSE
Created in response to the 2008 global financial crisis, EDW has contributed to economic growth and social value creation by supporting the development of capital markets and promoting the circulation of safe credit. It has done so by increasing transparency in the securitisation market by processing, verifying, and disseminating loan-by-loan information to facilitate the risk assessment of ABS and debt instruments backed by eligible credit claims (DECCs) as collateral used by Eurosystem counterparties in monetary policy operations.
Now, Europe faces another financial challenge: raising the necessary levels of investment to tackle climate change and environmental degradation.
With the European Commission's EU Green Deal setting ambitious goals to make the EU climate neutral by 2050, the securitisation market has a big role to play in financing the green transition.
As such, EDW is using its expertise and position as a market infrastructure to not only collect ESG-related data on transactions reported to its platform, but to also contribute to initiatives that enhance data availability and comparability and facilitate investment into the green transition.
ADVOCATING TRANSPARENCY TO ACHIEVE THE GOALS OF THE EU GREEN DEAL
EDW advocates that the standardisation, harmonisation, and centralisation measures adopted in the past regarding credit information on ABS, and more recently to pools of additional credit claims (ACC), are now necessary in relation to the sustainability-related disclosures with which EU financial institutions have to comply under the various applicable laws in order to accomplish goals envisaged by the EU Green Deal.
Via its securitisation repository platform, EDW already collects a wealth of sustainable finance information, including energy performance certificates (EPC) for residential mortgages and auto loans and actively promotes how such datasets can be used for credit risk and correlation analysis to support investment decisions.
This growing dataset, thanks to the ESMA and FCA exposure templates, now comprises 3.9 million records for auto loans and 0.9 million for mortgages.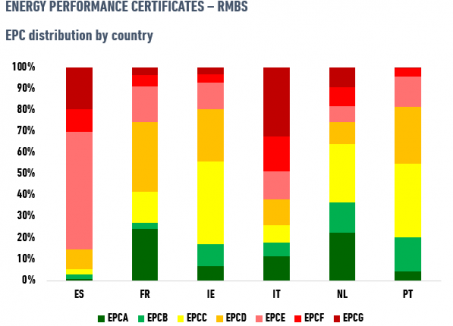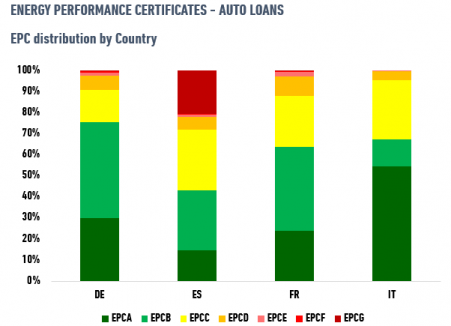 Whilst investor appetite is growing for information about how 'green' a portfolio is, the lack of data availability and standardisation due to GDPR restrictions and differing interpretations of energy performance standards across Europe are among the challenges that need to be addressed to improve the current disclosure practices.
Collaborating To Support The Green Transition
As well as participating in the Energy Efficient Mortgages Initiative (EEMI), a market-led initiative coordinated by the EMF/ECBC and funded via the European Commission's Horizon 2020 Programme, and the Energy Efficient Mortgages NL Hub , which aims to develop and maintain a Dutch framework for energy efficient mortgages, EDW collaborates on several other initiatives that aim to promote sustainable investments.
In particular, EDW is working to support financial institutions in providing sustainability-related information in line with the EU Taxonomy and Sustainable Finance Disclosure Regulation (SFDR), amongst others.
ENGAGE FOR ESG ACTIVATION INVESTMENTS
EDW is the project coordinator of ENGAGE for ESG Activation Investments (ENGAGE), an EU-funded project under the European Climate, Infrastructure and Environment Executive Agency's (CINEA) LIFE programme launched in November 2022.
Over a three-year period, ENGAGE will focus on developing standardised data disclosure templates and taxonomies for mortgage and home renovation loans in line with the most relevant European regulations, starting with the EU Taxonomy Regulation.
The templates will be operationalised through the ENGAGE portal, which will promote the financing of energy efficiency renovations and improve access to finance for newly built houses.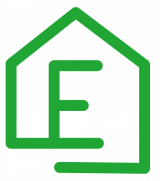 GREEN AUTO SECURITISATION
Green Auto Securitisation (GAS) is a three-year project that has been awarded a grant by the German Federal Ministry for Education and Research and seeks to promote the auto ABS and leasing ABS markets by designing a framework that supports the financing of low-emission vehicles (LEVs).
EDW is collaborating on this project with the Leibniz Institute for Financial Research SAFE to develop a database that would enable the reporting of ESG-related information at a single exposure level and enrich loan- and lease-level data with manufacturers' ESG ratings and details on car emissions and characteristics such as fuel type.
PROMOTING ESG BEYOND SUSTAINABLE FINANCE
In addition to its efforts in advancing sustainable finance initiatives, EDW also strives to incorporate positive ESG-related practices into its internal operations and goals.
From an environmental perspective, its goal is to be carbon-neutral across its entire business by adapting, innovating, and investing to combat climate change through green practices. For example, EDW plants a tree for each ABS transaction that is created on its platform.
From a social perspective, EDW endeavours to create an inclusive and diverse work environment and to respect the fundamental human rights of its employees and clients. It was certified as an "Attractive Employer" by Great Place to Work® for a second time in August 2023 via an internationally recognised certification process.
Finally, the company's corporate governance framework promotes principled actions, informed and effective decision-making and appropriate monitoring of compliance and performance. EDW's Code of Conduct shapes the company's operations, reputation, and overall attitude to how it does business and defines the expectations of it has of its employees, consultants, contractors, suppliers, subsidiaries, and affiliates.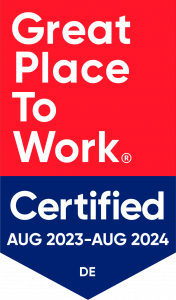 If you'd like to learn more about EDW's ESG-related data and ongoing projects, visit the EVENTS page to register for one of the workshops/webinars, or to check out the recordings and slides of past events. The website's INSIGHTS section also hosts a wealth of informative research articles and blogs.