EDW Time Series Now Covers Ten Years
Over the last ten years, European DataWarehouse has collected, verified and provided data for almost all European public securitisations.
As of 2022-Q4, the outstanding amount of public ABS loans reported to our database stood close to EUR 800 billion. Our Data Availability Report (an Excel document) contains an inventory of the public deals and periods for which this data is available.
This data has been provided exclusively in the ECB reporting format until 2021-Q1; subsequently, data was also reported using the ESMA and the FCA (UK standard) formats.
Exhibit 1 shows the evolution of the outstanding loan amounts reported to our databases, distinguishing five categories:
Data reported exclusively in ECB format
Data reported both in ECB and ESMA format
Data reported exclusively in ESMA format
Data reported in ESMA and FCA format
Data reported exclusively in FCA format (UK database only)
Exhibit 1: Total Outstanding Amount of ABS Loans Reported to EDW (all Asset Classes)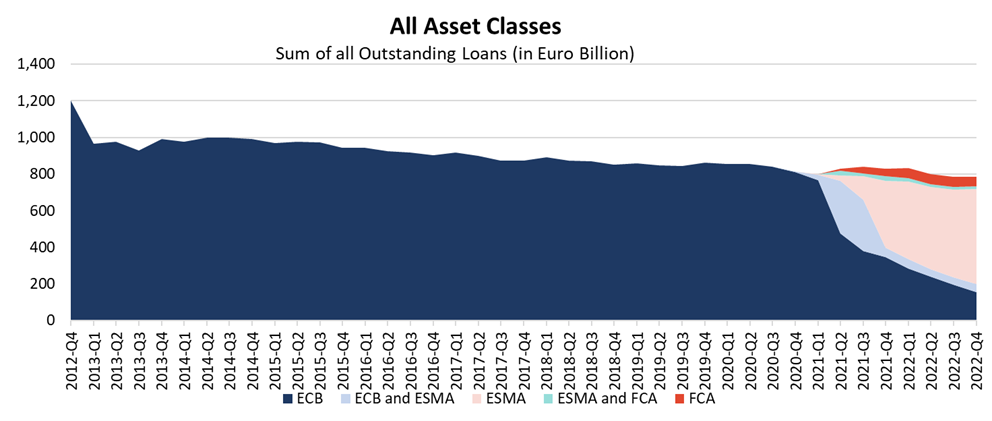 By now, most data is reported in the ESMA format, and we expect that the last upload in ECB format will be provided in Q3 2024. The fact that data for some of the deals was reported both in ECB and in ESMA format makes it possible to compare how the information was translated from one reporting standard to the next. The slides of our last research webinar include charts similar to Exhibit 1 for the various asset classes. They show that very little data is still reported in ECB format at this stage except for mortgages, for which it is still used for 1/3 of the data.

To learn more, register for our Q2 Research Webinar on 6 June or download the Q4 2022 Data Availability Report .