What it takes to have the "Best Data Quality" of the Year (and Decade)
European DataWarehouse launched its inaugural data quality award at the company's 10-year anniversary celebration in November. This year EDW presented two awards; one for Data Quality of the Decade (2012-2022), awarded to Europea de Titulización S.A. (EDT) and one for Best Data Quality – Deal of the Year (2021-2022), which was awarded to Intesa San Paolo for their deal, Intesa San Paolo – BRERA Sec S.r.l. – RMBS 2021.
10 YEARS OF OUTSTANDING DATA QUALITY
In order to select the issuer with the best Data Quality of the Decade, EDW's data analysts first narrowed down the candidates to a pool of issuers with at least 6 years of data submissions. From this list, we considered the Data Quality Score (DQS) obtained in each data submission (click to find out everything you need to know about EDW's data quality scoring) and assigned a point according to the following logic:
A = 1 point
B = 2 points
C = 3 points
D = 4 points
E = 5 points
F = 6 points

The average score per data owner was then calculated and the issuer with the lowest score was identified. In this case, EDT, with a score of just 1.19 points was the clear winner.
"EdT is honoured to have been presented with EDW's "Best Data Quality of the Decade" award. Our team still remembers when EDW's analysts came to Madrid in 2017 to present us the DQS1 and DQS2 indicators. We thought it was great to have a clear measure of information quality and began a project to excel the quality of information produced and delivered by EdT."

Europea de Titulización S.A.
- Javier Eiriz, Director General
DEAL OF THE YEAR FOR 2021-2022 AND BEYOND
A similar methodology was used to calculate EDW's "Best Data Quality – Deal of the Year". For this award only deals without any DQS rule failures were considered. These failures would have included flaws such as inappropriate use of ND5 or inconsistencies between fields.
To select a winner, the sum of the number of fails for each Data Quality Plus rule was divided by the total number of loans to find the deal with the lowest scor. Data Quality Plus rules are more nuanced and include rules such as excessive usage of the "Other" option or duplicate/ negative values.
For the Intesa San Paolo – BRERA Sec S.r.l. – RMBS 2021 deal, the calculation looked like this:
Sum of the number of fails for Data Quality Plus rules: 548
Divided by the total number of loans: 61,499
Calculated the deal with the lowest score: 0.0089
"We are very proud to have won this inaugural "Best Data Quality – Deal of the Year" award which represents an additional stimulus for us to maintain a high level of data quality in our reporting – a topic we take very seriously at Intesa San Paolo."
Intesa San Paolo
- Fabio Ferrari
EDW'S COMMITMENT TO BETTER DATA QUALITY
With the introduction of the Securitisation Regulation (EU) 2017/2402 (SECR) EDW recognised the need to introduce data quality scoring on a deal level in 2017 and since then has developed and applied more than 4,000 rules and checks to both the ECB Loan-Level Data templates and the ESMA Underlying Exposures, Investor Report, and Significant Event templates.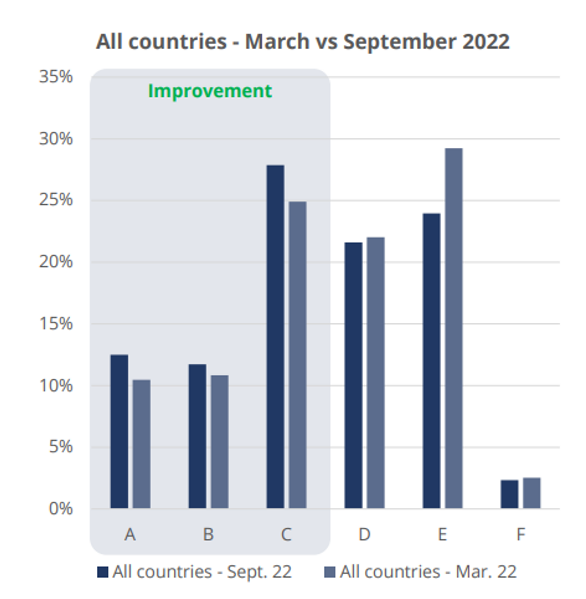 EDW noted a measurable decrease in data quality as issuers faced the challenges associated with the evolving disclosure framework and incoming reporting format. As such, we have been supporting our clients in resolving their data quality issues and working together with them to achieve greater standardisation and transparency for the market.
A recent analysis of the DQS distribution for all European deals within EDW's EDITOR platform shows that the trend for better data quality is on the rise and we are committed to continuing our efforts in this area with those clients who share our mission.